By: Ateshe Firouz
Louise Laylin Firouz grew up surrounded by horses. She rode to school along forest trails as a child in rural North Virginia. Life on a farm left an indelible impression on the young Louise and she was never able to live in a city for any length of time. Nor was she ever able to live without horses.
After she married Narcy Mirza Firouz they moved to Shiraz where they bought a 15,000 hectare farm. It was during these years that Louise fell in love with the Oriental horse. Her first horse was a black Basseri stallion. Narcy and Louise would ride through the mountains and plains surrounding their land often encountering the migrating Qashquai tribes. All three children were born during those early years in Shiraz.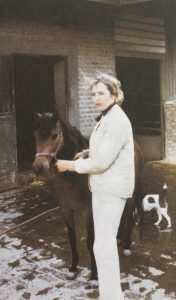 After a few years Narcy and Louise moved to Tehran where they had been given a barren piece of land in Norouzabad. It was an empty, rocky desert all the way to the Albert mountains in the North and to the distant villages in the South. Nonetheless, Louise and Narcy worked tirelessly to develop the land and started to breed horses. Roshan and Ateshé started riding at a very early age and the spirited stallions proved to be unsuitable mounts for such young children.
Louise had heard of a small horse in the Caspian plains and decided to organise a trip with some friends to look for a suitable mount for children. They encountered their first Caspian horse in Amol: "It was the size of a pony but it definitely did not fit the description of a pony. It was a perfectly formed miniature horse."
Louise bought her first Caspian horse during this trip, the foundation mare, Alamara. She was the dam of Momtaz-e-Mahal, a mare given to Prince Philip by Louise and Narcy Firouz during a visit to Iran.
This is the beginning of the Caspian story.